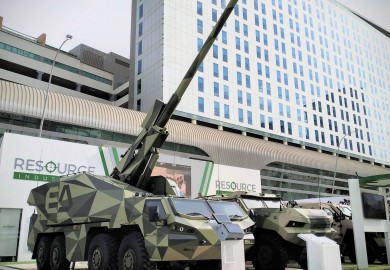 The DITA 155 mm has its world premiere at IDEX exhibition in Abu Dhabi, held on February 21-25, 2021 in United Arab Emirates. EXCALIBUR ARMY presented here the prototype of self-propelled gun-howitzer for the first time in the public. Visitors could see live the dynamic shows with selection of traverse and elevation of the gun.
Main characteristics of the vehicle is the fully autonomous operation, when is required only two crew members - the driver and the commander. The howitzer is equipped with an automatic guiding system that allows fast and fully-automatic weapon adjustment into fire position.
The DITA was presented with M4 control system which indicates all diagnostics data related to the gun and chassis condition. 
One of the special visitors who came to see the howitzer personally, was the Sheikh Mohamed bin Zayed, Prince of Abu Dhabi. We were also pleased to be visited by His excellency Lt. General Hamad Mohammed Thani Al Rumaithi, Chief of Staff of the Armed Forces who left his signature at the cab of the DITA.
We are looking forward to participate in next season of IDEX exhibition.